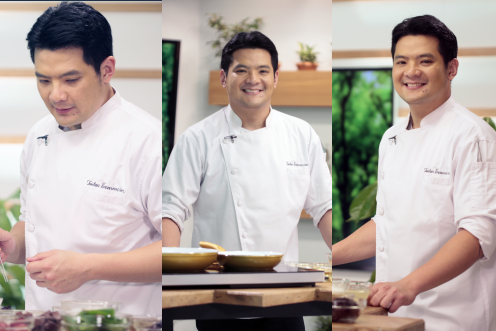 Wellness Recipes: Diet for breast cancer
Posted November 1, 2015 by admin
WELLNESS RECIPES ni Chef Tristan Encarnacion
Easy to prepare, simple and nutritious
RECIPE: CHICKEN AND FISH GINGER SOUP
Ingredients:
1 pc. Chicken Breast fillet
1 pc. Chicken Leg Quarter
1 pc. fillet Fish (Cream Dory)
1-2 tbsps. Oil
1 tbsp. Ginger, crushed
3 cloves Garlic, crushed
Water as needed
Fish sauce to taste
Freshly ground black pepper to taste
1pc Baby Radish, thinly sliced
½ cup Sayote, boiled and mashed
1 tbsp. Malunggay Leaves
1-2 tbsps. Dahon ng Sili
Heat oil in a pot. Sear and brown chicken, remove and set aside. Sauté garlic, ginger and pour water or stock. Return seared chicken on the pot, add fish and season with fish sauce and black pepper. Add mashed sayote to thicken the soup. Once the dish is done, add malunggay and sili leaves. Transfer cooked chicken and fish on a bowl plate, garnish with baby radish and fresh leaves or greens on top.