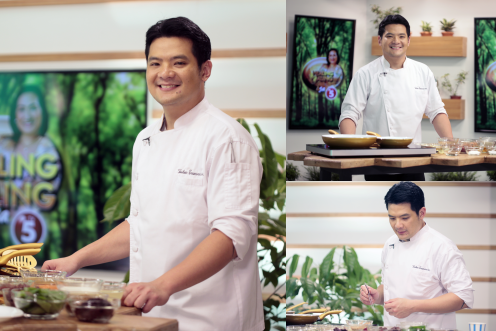 Wellness Recipes: Almoranas
Posted October 12, 2016 by admin
WELLNESS RECIPES ni Chef Tristan Encarnacion
Ang magandang kainin para "mag- hydrate pa more" ay gulay na matubig tulad ng lettuce. I-try na ang recipe ni Wellness Chef
RECIPE: "Lettuce Palm"
Ingredients:
¼ cup Oil
2tbsps White Onions, chopped
1tbsp Garlic, minced
1tbsp Ginger, minced
1cup Shredded or Ground Chicken
¼ cup Cucumber, shredded
¼ cup Carrots, shredded
3tbsps Alugbati, chopped
½ cup Pears (fruit), shredded
Oyster Sauce to taste
Hoisin Sauce to taste
1tbsp Sesame Oil
Seaweed salt as needed
Ground black pepper to taste
Lettuce, fresh, mix greens as needed
Igisa ang sibuyas, bawang at luya sa kawali na may mainit na mantika. Ilagay ang manok at iluto ng ilang minuto. Isama ang pipino, kerot, alugbati at peras. Timplahan ng oyster sauce, hoisin sauce, seaweed salt at durog na paminta. Haluing mabuti. Lagyan ng sesame oil, haluing mabuti at ilipat sa malinis na lalagyan at ihain kasama ang sariwang letsugas na gulay.