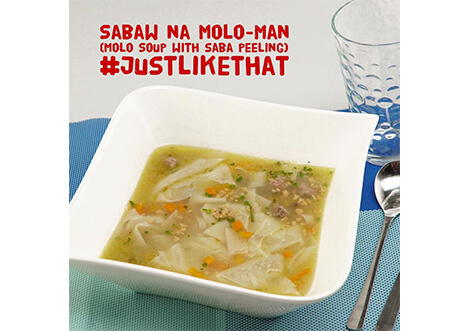 Wellness Recipes: Aneurysm
Posted September 7, 2017 by admin
WELLNESS RECIPES ni Chef Jeremy
RECIPE: SABAw na MOLOman
Ingredients:
1 small pack molo wrapper
2-3 cups lean ground pork
1 cup saba peeling
6 cloves minced garlic
Healing Galing Seaweed salt
Pepper
Drops of sesame oil
6 cups chicken stock
6 cups chicken stock
1 celery stalk (chopped)
1/3 cup diced carrots
Vegetable oil
1 bay leaf
Green onions for garnish
Garlic chips to serve (optional)
Procedure:
Make the molo filling by combining the first 6 ingredients excluding molo wrapper.
Wrap in the molo wrapper and seal with water.
In a non-stick pot heat some vegetable oil and sauté onion celery and carrots.
Pour in chicken stock and let it boil.
Add in bay leaf and season accordingly.
Drop in the molo wontons and cook until opaque.
Serve with green onions and garlic chips.