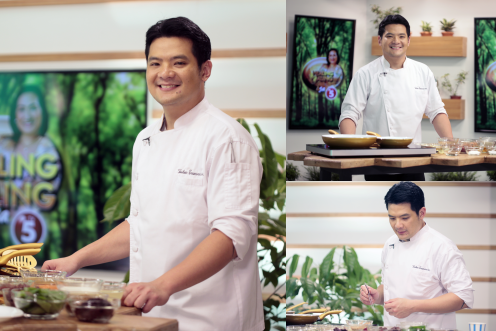 Wellness Recipes: Arthritis
Posted January 17, 2016 by admin
WELLNESS RECIPES ni Chef Tristan Encarnacion
Eating bone marrow is rich in collagen advisable for arthritis
RECIPE: Sinigang na Bulalo sa Pakwan
Ingredients:
2tbsp Vegetable oil
3tbsp Onions, chopped
3cloves Garlic, crushed
350-450g Beef Bulalo Marrow with meats
Beef broth or Water as needed
2pcs Siling Pangsigang
1-2tbsp Sinigang sa Sampalok mix
2tbsps Annato/Atsuete
Fish sauce as needed
Freshly cracked black pepper as needed
50g Baguio beans
50g Cabbage (Green and Red)
120g Watermelon, red and yellow, seedless as needed
Brown beef bulalo in a pot with hot oil. Add onions and garlic. Pour beef broth or water, bring to a boil, simmer until the meat is tender. Toss in siling pangsigang and add sinigang mix. Using a strainer, dip annatto seeds in sinigang until the broth turns orange. Remove and discard used annatto then season dish with fish sauce and cracked black pepper. Right before serving, add vegetables and watermelon.