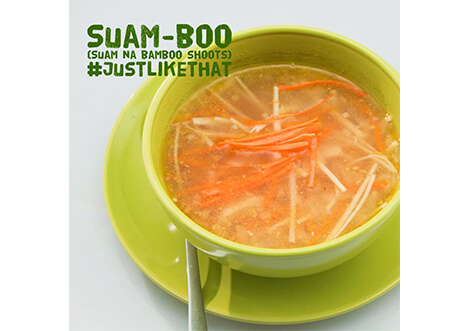 Wellness Recipes: Bartholin Cyst
Posted September 7, 2017 by admin
WELLNESS RECIPES ni Chef Jeremy
RECIPE: Suamboo (Suam na bamboo shoots)
Ingredients:
1 small white onion (minced)
1/3 cup carrots (julienned)
2 cloves garlic (minced)
6 cups (chicken stock: pinagkuluan ng manok)
1 cup bamboo shoots
1 tsp cornstarch dissolved in 1/3 cup water
1/2 cup shredded chicken breast meat
1/2 cup Dahon ng sili
Healing Galing Seaweed salt
Pepper
2 tbsp olive oil
Procedure:
In a non stick deep casserole, sauté onion garlic and carrots in olive oil over low – medium heat.
Add bamboo shoots and stir for another minute.
Add chicken stock and simmer for 2-3 minutes. Add dahon ng sili.
Add cornstarch and water. Season with salt and pepper.
Serve in a nice mangkok and top with more bamboo shoots and shredded chicken.