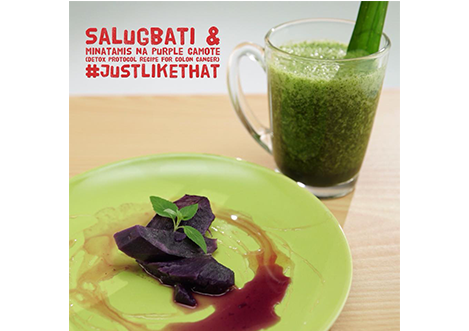 Wellness Recipes: Colon Cancer
Posted February 20, 2018 by admin
WELLNESS RECIPES ni Chef Jeremy
RECIPE: Salugbati with Minatamis na Purple Camote (DETOX PROTOCOL Recipe)
Shake Ingredients:
Alugbati
Saluyot
1 glass water
Honey
Minatamis Ingredients:
Purple camote, sliced
Water
Pandan leaf
Honey
Procedure:
For the shake, blend 4 ingredients altogether in a blender to create the beverage.
For the minatamis, boil water with pandan and add desired amount of honey to sweeten. Add the camote and cook until tender.