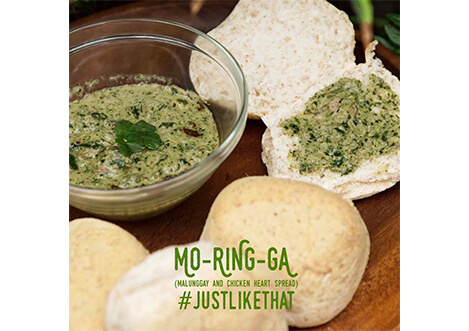 Wellness Recipes: Cranial Nerve Palsy
Posted May 18, 2017 by admin
WELLNESS RECIPES ni Chef Jeremy
RECIPE: MALUNGGAY AND CHICKEN HEART SPREAD a.k.a "moRINGga"
Equipment needed: Blender
Ingredients:
1 cup malunggay leaves (blanched)
1/4 cup basil leaves
10 cloves garlic (minced)
1/3 cup chicken heart
1/3 cup minced white onion
1/4 cup olive oil
Seaweed salt
Pepper
(Serve over a local bread)
Procedure:
In a non stick skillet, saute onion and garlic over low-medium heat in olive oil. Add chicken heart and cook until opaque. Season with seaweed salt and pepper.
Add blanched malunggay and basil.
Purée in blender until it becomes a paste.
Serve over bread of choice.