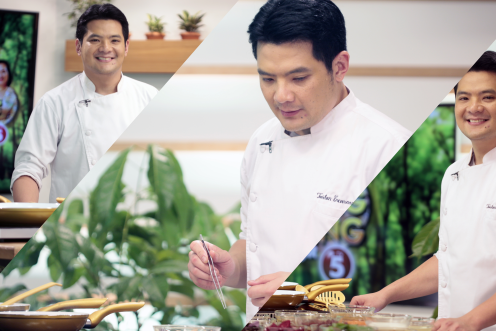 Healing Sangkap: Stir-fried Tikoy
Season 3, Feng Shui
Posted February 19, 2016 by admin
Ingredients:
3tbsps Oil
2tbsps Onions, chopped
1tbsp Garlic, minced
1/2tbsp Ginger, chopped
3/4cup Ground beef
1/2cup Eggplant, sliced and boiled
1/2cup Tikoy, diced
1/4 cup Mushrooms, diced
1pc Siling labuyo, chopped
2tbsps Oyster sauce
3tbsps Soy sauce
2tbsps Brown sugar
Ground black pepper, as needed
1tbsp Sesame oil
2tbsps Spring onions, chopped
Saute onions, garlic and ginger in a pan with oil. Add Ground beef and let it brown. Add eggplant, tikoy, mushrooms and labuyo. Season with oyster sauce, soy sauce, brown sugar, ground black pepper and add sesame oil and spring onions, mix very well. Best served with steamed rice.