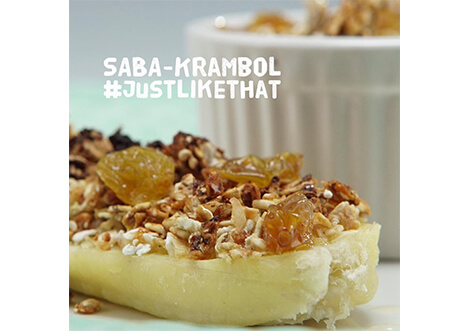 Wellness Recipes: Glossitis Hemangioma
Posted September 7, 2017 by admin
WELLNESS RECIPES ni Chef Jeremy
RECIPE: SABA KRAMBOL
Equipment needed:
Ramekin
Oven toaster
Aluminum foil
Ingredients:
3 ripe saging na saba (boiled with seeds scooped out)
1/4 cup grated cheese
1 cup rolled oats, divided into 2
Healing Galing Honey
Some pasas(raisins) for garnish
Dipping sauce:
Fresh orange juice + honey + seaweed salt
Procedure:
Pan toast rolled oats in a nonstick pan over low heat for 2-3 minutes.
Add some honey and grated cheese. Set aside as this will serve as your final layer/topping.
Layer all ingredients in a ramekin, and pop in a preheated oven toaster and cook for 4-5 minutes until top layer is a bit golden. You may cover with aluminum foil so you can remove it from time to time just in case you can't temper your toaster.
Serve with some pasas on top.