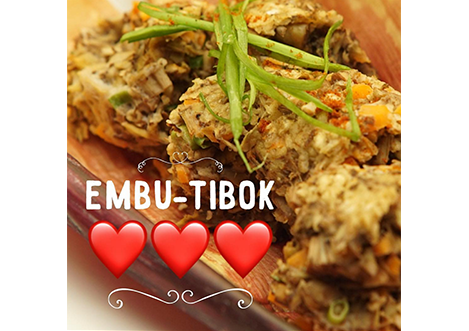 Wellness Recipes: Happy Heart Valentine Special
Posted May 29, 2017 by admin
WELLNESS RECIPES ni Chef Tristan Encarnacion
RECIPE: Embu-Tibok
Equipment needed: Steamer
Ingredients:
1 kilo chopped puso ng saging
2 eggs (beaten)
1 tbsp flour (optional as binder)
1/2 cup oatmeal (instant oats is ok)
1/3 cup diced carrots
Seaweed salt
Pepper
Paprika
Cooking oil
Spring onion for garnish
Aluminum foil
Procedure:
In a mixing bowl combine boiled puso ng saging, carrots, eggs and oats.
Season with healing galing seaweed salt, pepper and paprika.
Mold into your aluminum foil embutido style. Steam for 10-15 minutes until thoroughly cooked.
Option: pan fry it for more texture! Heat some olive oil in a non stick pan over low to medium heat. Dust the loaf with some oats before pan frying.
Pan fry each "meat"loaf until golden brown over the same heat. Roughly 2-3 minutes per side.