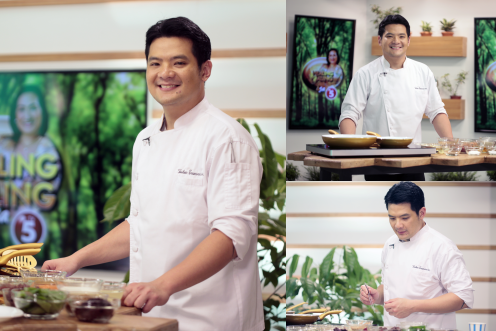 Wellness Recipes: Heart Condition
Posted February 19, 2016 by admin
WELLNESS RECIPES ni Chef Tristan Encarnacion
Eating fish as protein lowers cholesterol
RECIPE: BANGUS BELLY SA SABA
Ingredients:
1/2tbsp Oil
2tbsps White Onions, chopped
1/2tbsp Garlic, chopped
2tbsp Tomato, chopped
1-2pcs Siling pangsigang (optional)
1-2pcs Saging na Saba, hinog
2small pcs Gabi, peeled
Brown Sugar, as needed
Vegetable Stock as needed
Patis and or Soy Sauce, as needed
1-2pcs (150g each) Bangus Belly
Salt and Pepper to taste
5-7 leaves of kangkong
1-2tbsps Fresh Stevia
1/4cup Cucumber, diced
Dahon ng saging (garnish)
A cup of plain rice
Saute onions and garlic in a pot with hot oil. Add tomatoes, sili (optional), saging na saba and gabi. Season with patis and or sauce. Pour stock and simmer until saba and gabi are soft and mashable. Pour everything in a blender, puree until smooth and return mixture onto the pot. Add brown sugar and pepper. Add bangus belly, simmer until cooked. Add kangkong and pipino before serving. Season with salt if needed. Serve with plain rice.