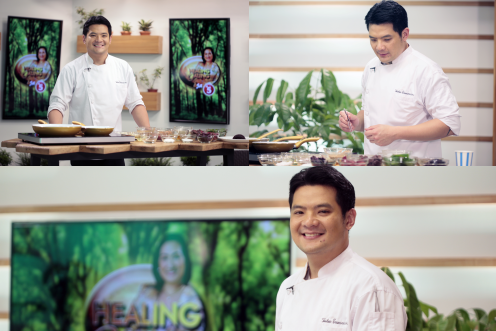 Wellness Recipes: Macular Degeneration
Posted February 19, 2016 by admin
WELLNESS RECIPES ni Chef Tristan Encarnacion
RECIPE: Inabraw na Tilapia sa Seaweed Salt At Papaya
Ingredients:
1tbsp Oil
2tbsps Onions, chopped
1/2tbsp Garlic, chopped
1/4cup Sitaw, cut into 2inches long
1/2cup Kalabasa, cubed
1-2pcs Kamatis, diced
1/4cup Kamote, diced
1/2cup Sigarilyas, cubed
A handful of bunga ng malunggay
Vegetable broth as needed
1-3pcs (120-150g each) Tilapia fillet
Bagoong isda, as needed
3/4cup Ripe papaya, diced
Rock salt as needed
Black pepper to taste
Sauté onions and garlic in a pot with hot oil. Add the vegetables, season with rock salt and pepper. Pour vegetable broth and simmer until vegetables are cooked. Season again with bagoong isda, add fish, simmer till cooked then right before serving, add ripe papaya. Serve hot and with plain rice.