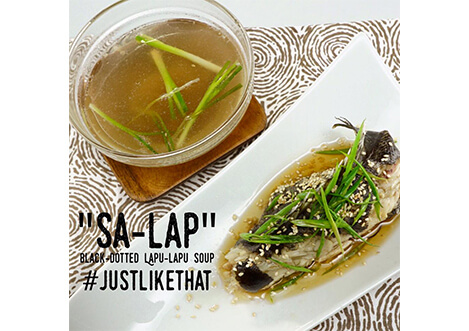 Wellness Recipes: Mother's Day Part 2
Posted September 7, 2017 by admin
WELLNESS RECIPES ni Chef Jeremy
RECIPE: BLACK-DOTTED LAPI-LAPU SOUP (Sa-Lap and Isda-One)
Ingredients:
Live 1/2 kilo black -dotted lapu-lapu (yung maliksi kumilos sa tubig)
4 slices of ginger (big)
Salt
Onion Leeks
4 cups of water
Procedure:
Bring water with ginger to a boil.
Carefully place live lapu-lapu in boiling water. Make sure to ask for help as the lapu-lapu will try to struggle. Once the fish is inside, hold the lid down firmly until the fish no longer moves.
When the lapu-lapu is still, add salt and onion leeks to taste.
Serve the fish separately or eat with the soup.