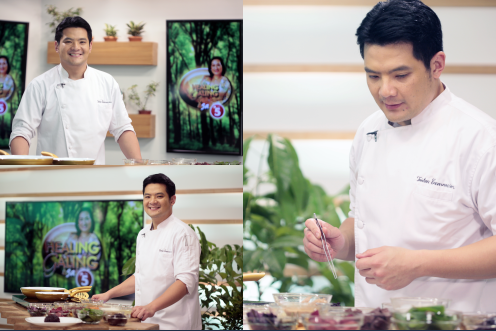 Wellness Recipes: Mothers Day Special
Posted May 10, 2016 by admin
WELLNESS RECIPES ni Chef Tristan Encarnacion
Cartilage like bulalo provides the amino acids proline and glycine, and they are believed to help rebuild your collagen.
RECIPE: Yin Yang Bulalo With Sayote
Ingredients:
500g beef bulalo with marrow
2tbsps oil
1tbsp garlic, chopped
2tbsps onions white, sliced
Sayote
1pc corn
1/4head cabbage
Baguio beans as needed
White Sugar as needed
SEAWEED salt to taste
Whole black pepper as needed
Heat oil and brown bulalo meat on both sides. Add onions, garlic and ginger. Pour water or bulalo broth, season with rock salt, sugar and black pepper. Simmer until meat is tender. Once meat is ready, adjust seasoning by adding fish sauce. Add vegetables and serve hot.