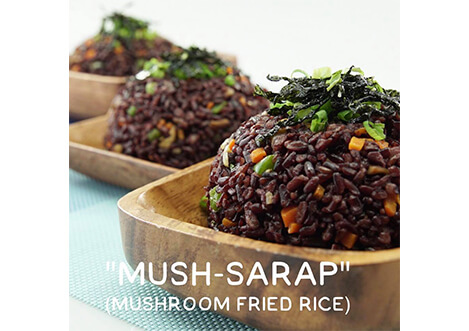 Wellness Recipes: Multiple Conditions
Posted May 18, 2017 by admin
WELLNESS RECIPES ni Chef Jeremy
RECIPE: MUSH-SARAP! (Mushroom fried rice)
Ingredients:
1 cup cooked brown rice
1 cup canned shiitake mushrooms, drained (but better if fresh)
7 cloves garlic
1 tbsp vegetable oil
1/3 cup carrots (diced)
1 green bell pepper (seeded and diced)
Seaweed sheets (nori)
Seaweed salt
Pepper
Healing galing honey for plating
1 cucumber for plating
Procedure:
In a non stick frying pan, sauté garlic in vegetable oil until fragrant.
Add mushrooms and cook for 4-5 minutes.
Add the rest of the veggies and stirring/cooking with 1 minute interval each.
Add cooked brown rice. Season with salt and pepper.
Garnish with Nori sheets and plate over cucumber.