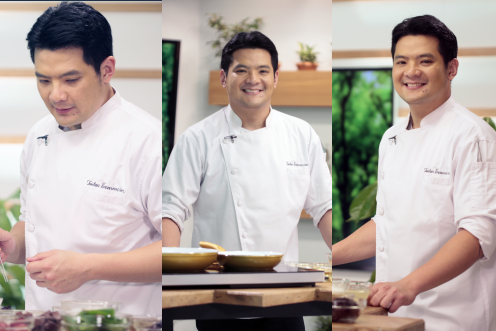 Wellness Recipes: Prostate
Posted December 13, 2015 by admin
WELLNESS RECIPES ni Chef Tristan Encarnacion
RECIPE: Asian Infused Tilapia Fillet
Ingredients:
2pcs Tilapia fillet
Banana leaf as needed
1pc Lemongrass
2pcs Sibuyas tagalog, crushed
3cloves Garlic, crushed
2tbsps Wansoi
1pc Calamansi
Salt as needed
Ground Black pepper as needed
½ tbsp. White sugar
Fish sauce as needed
¼ tbsp. Whole black pepper
2pcs Laurel leaves
Place banana leaf, lemongrass, shallots and garlic on the steamer. Season fish with salt and pepper, squeeze calamansi over the seasoned fish. Put on top of the vegetables. Pour water or stock on the pot and add sugar, fish sauce, laurel and peppercorns. Bring to a boil, simmer and place the steamer on top of the pot. Steam until fish is cooked. Serve with steamed rice.