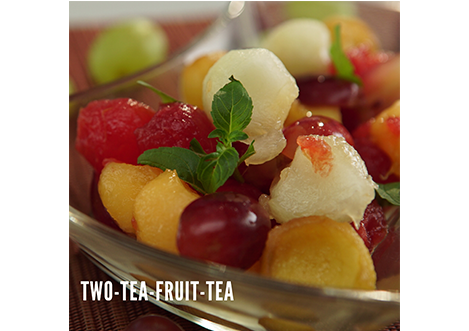 Wellness Recipes: Skin Asthma (New Year Special)
Posted February 20, 2018 by admin
WELLNESS RECIPES ni Chef Jeremy
RECIPE: TWO-TEA FRUIT-TEA
Equipment needed:
melon baller
2 small heavy bottomed pots
Ingredients:
1/2 watermelon
1/2 melon
1/2 honeydew
1 red apple
1/3 cup seedless grapes
1 cup fresh pandan leaves
1 cup fresh mint leaves
1 lemongrass stalk
1/2 cup Honey (divided into two)
Water for boiling
Procedure:
Using a melon baller carve through all the fruits and make round-sized pieces. Set aside in a large mixing bowl, cover in cling wrap and chill for a few minutes.
In a small pot, boil 2 cups of water and add pandan leaves.
In a separate pot, boil two cups of water and add mint leaves and lemongrass.
After boiling for five minutes, turn of the heat from the two pots. Add honey and mix well.
Toss the two types of tea mixture on the prepared round fruits. 
Chill for another 30 minutes and garnish with fresh mint leaves. Transfer in a serving dish.