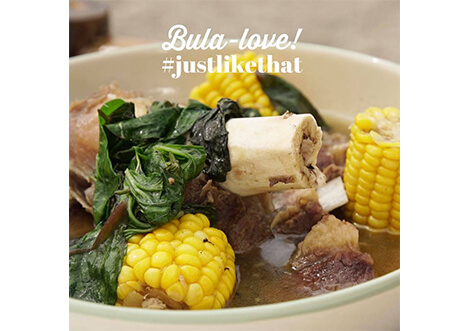 Wellness Recipes: Skin Asthma
Posted May 18, 2017 by admin
WELLNESS RECIPES ni Chef Jeremy
RECIPE: BULALOVE
Ingredients:
2 medium sized marrow bones (trim one end, pwede pa hiwa na sa market)
1 garlic head (about 8 cloves, crushed)
1 large red onion (quartered)
400-500 grams beef shank (kasama karne)
2 medium sized corn (cut into 3 each)
1 bay leaf
16 pcs black peppercorn
Seaweed salt
1 cup kangkong leaves
1/2 cup alugbati leaves
1/2 cup spinach leaves
2 tbsp vegetable oil
Water for boiling (room temp lang po, mga isang pitsel)
Procedure:
In a large cooking pot (if may pressure cooker, better) sauté onion garlic and bay leaf in vegetable oil over low-medium heat.
Sauté meat and cook for about 2-3 minutes over the same heat. Add the rest of the ingredients except corn and greens.
Add water and simmer/cook for an hour- an hour and a half until meat is tender and broth is flavorful.
Season with seaweed salt and pepper. Add corn and greens.