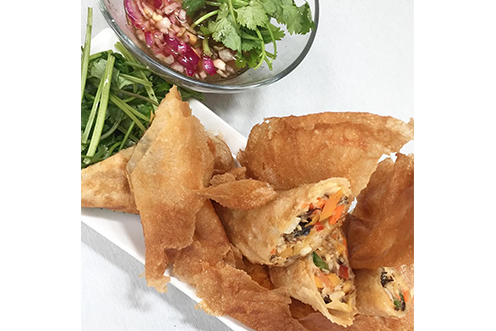 Wellness Recipes: Sulimpat
Posted May 29, 2017 by admin
WELLNESS RECIPES ni Chef Tristan Encarnacion
Ngayong umaga sa Healing Sangkap, isang panalong Vitamin A overload na lumpia ang ating ihahanda. Tawagin natin itong Lumpia-nalo!
Syempre ang mga bidang sangkap natin ay ang mga vitamin A rich na gulay–Sweet Potatoes, Carrots at Bell Peppers!
RECIPE: LUMPIA-nalo
Ingredients:
1/2cup sweet potatoes, pre cooked
1/4cup carrots, thinly sliced
1/4cup red & green bellpeppers, thinly sliced
1/4cup jicama, thinly sliced
1cup tinapa, cooked and flakes
Beaten egg, as needed
Lumpia wrapper as needed
1cup wansoi, fresh
Oil for frying
Seaweed salt as needed
Sugar as needed
Ground black pepper as needed
Dipping sauce:
1cup Vinegar
2-3cloves Garlic, crushed
1-2pcs Shallots, crushed
Ground black pepper to taste
Brown sugar to taste
Seaweed salt to taste
1/2tbsp sesame oil
Pagsamasamahin ang mga rekado sa isang lalagyan puwera lang sa lumpia wrapper at mantika. Timplahan ng seaweed salt, asukal at paminta. Maglagay ng nahalong rekado sa lumpia wrapper, balutin at iprito. Ihain kasama ng sawsawan.
Para naman sa sawsawan, pagsamahin lahat sa isang lalagyan at timplahan mabuti bago ihain.
Ito ay nagkakahalaga lang ng 33 pesos lang per serving o mahigit 200 pesos para sa isang pamilya! Lumpia-nalo talaga!