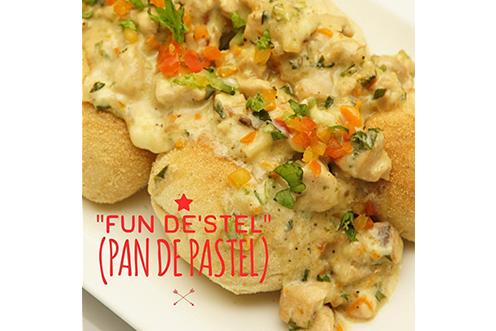 Healing Sangkap: Fun de Stel (Pan de Pastel)
Season 6, Valgus
Posted May 29, 2017 by admin
Ingredients:
1 dozen malunggay pan de sal
1/2 cup fresh milk
1/2 bar cheese
1/3 kilo chicken thigh or breast fillet (cut into chunks)
7 cloves of garlic (minced)
1 celery stalk (minced)
2 tbsp minced onions
1 tbsp minced carrots
1 tbsp minced red bell pepper
3 tbsp cooking oil
Seaweed salt
Pepper
Procedure:
In a non stick pan, heat some olive oil over low to medium heat.
Sauté onion, celery and carrots. Add garlic.
Add in your chicken and cook until it is opaque. 
Season with salt and pepper.
Over low heat, pour in milk and add grated cheese. Use a silicon spatula to continuously stir until the cheese melts.
Once the mixture becomes thick, pour it over your malunggay pan de sal.
Top with some crispy chicken flakes (optional) and some freshly minced red bell pepper.