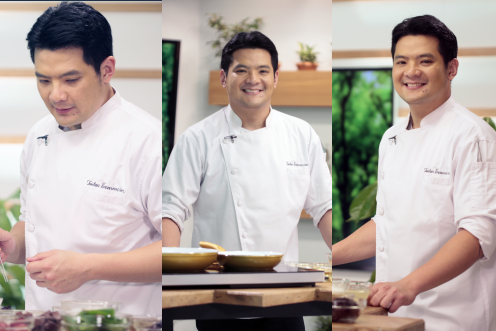 Wellness Recipes: Varicocele / Hernia
Posted June 28, 2016 by admin
WELLNESS RECIPES ni Chef Tristan Encarnacion
RECIPE: STEAMED VITAMIN B RICH VEGETABLES
Ingredients:
1cup Shiitake mushrooms, fresh
1cup Oyster mushrooms, fresh
A handful of Asparagus
1/2 cup Sugar beets, sliced
Seaweed salt as needed
Ground black pepper as needed
Water as needed
3pcs Bay leaves
1tbsp Whole black peppercorn
1tbsp Sesame oil
Soy sauce as needed
Sugar as needed
Pour water in the steamer and add whole peppercorns, sesame oil, bay leaves, sugar and soy sauce. Bring to a boil then lower heat to simmer. Place the rack on top of the steamer with all the vegetables. Cover the steamer and wait until it is cooked. Serve with the dipping sauce.
Dipping Sauce
Ingredients:
2tbsps Oil or butter
2tbsps Onion, finely chopped
1tbsp Garlic, minced
2cups Button mushroom, finely chopped
2cups Spinach, fresh and washed
Bread crumbs, toasted as needed
Oyster sauce as needed
All purpose cream (optional) as needed
Seaweed salt to taste
Ground black pepper to taste
Heat oil or butter in a pan. Sauté onions and garlic. Add mushrooms and spinach. Season with oyster sauce, seaweed salt and black pepper. Pour a bit of cream if needed. Add toasted bread crumbs to adjust consistency.