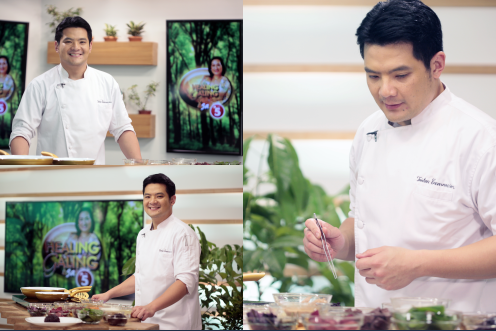 Healing Sangkap: Nilagang Baka Sa Saba, Mais At Star Anise
Season 2, Myoma
Posted November 29, 2015 by admin
Ingredients:
Beef Campto, cubed, boiled until tender, broth saved
1 tbsp. Oil
1 tbsp. Onions, chopped
1 clove Garlic, crushed
¼ head small Cabbage
3-5 pcs. Baguio beans
1 pc. Saging na Saba
½ pc. Corn
Patis as needed (optional)
1 pc. Star Anise
Rock salt as needed
Ground black pepper
Sauté onions and garlic in a pot with oil. Add tender beef and pour in broth. Add star anise, vegetables, saging and corn. Remove star anise add season with salt and pepper. Serve on a bowl with steamed rice.