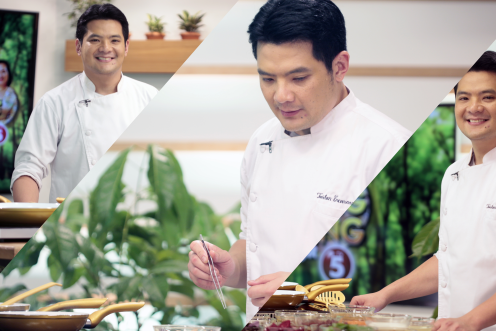 Healing Sangkap: Mixed Vegetable, Fruits and Nut with Honey Balsamic Dressing
Season 2, Sinusitis
Posted December 6, 2015 by admin
Ingredients:
2 hand full Mixed lettuces/greens
½ cup Red Alugbati, washed
¼ pc. Baby radish, thinly sliced
¼ cup Singkamas, thin strips
¼ cup Cucumber, sliced and quartered
½ cup Watermelon, cubed
½ cup Ripe mango, diced
¼ cup Grapes, halved
1 tbsp. Cashew nuts
2 tbsps. Kesong Puti, diced
Put everything in a bowl. Pour prepared dressing, toss and serve on a cold salad plate.
Dressing:
1 tbsp. Balsamic Vinegar
1 tbsp. Canola oil
½ tbsp. Honey
¼ tbsps. Mustard
Salt as needed
Ground black pepper as needed
Combine everything in a jar. Shake very well. Check seasoning before serving