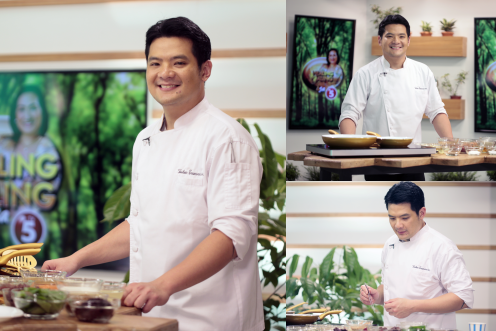 Wellness Recipes: Food for Pamamanhid
Posted October 25, 2015 by admin
WELLNESS RECIPES ni Chef Tristan Encarnacion
Rich in red meat , a great protein recipe for nerve strengthening
RECIPE: CARABEEF
Ingredients:
150 g. Carabao meats, boiled and broth reserved
2 tbsps. cooking oil
1 tbsp. onions, chopped
½ tbsp. garlic, chopped
2-3 pcs. of iceberg lettuce and romaine lettuce leaves, washed
¼ cup spinach leaves, washed
3-4 pcs. asparagus, blached/half cooked
1 tbsp. malunggay leaves
1 pc. potatoes, boiled and mashed
1 pc. banana, boiled and mashed
1 pc. egg yolks
1 tbsp. quickmelt, cubed
½ cup heavy cream (cooking cream)
½ cup fresh milk
1 tbsp. butter, unsalted
½ tbsp. white sugar
Salt as needed
Ground black pepper as needed
Sauté onions and garlic in a hot pan with oil. Add carabao meat and season with salt and pepper. Pour broth, cheese and cream, simmer for a few minutes, turn off the heat and add in egg yolks until thick and creamy. Set aside.
For the mashed potato. Heat milk and or cream, add butter and stir in mashed potatoes and mashed bananas. Season with salt and pepper. Add spinach and malunggay. Mix very well. Check seasoning before serving.
To assemble, place mashed potato and banana on the center of the plate. Top it with cooked carabao's meat and garnish with green leafy vegetables.