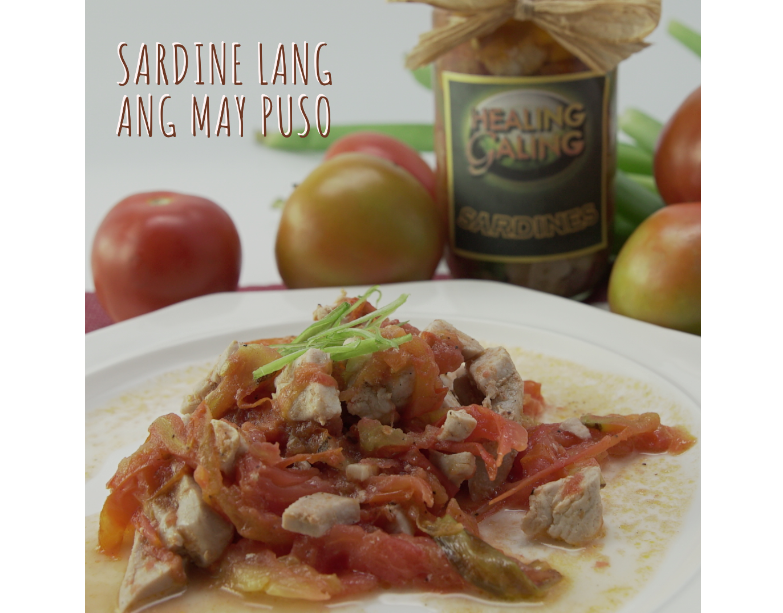 Healing Sangkap: SARDINE lang ang May PUSO
Season 17, MYOCARDITIS
Posted January 23, 2020 by admin
Equipment needed:
A nice clear garapon for plating (parang lalagyan ng Spanish sardines)
Ingredients:
1/2 kilo tuna loin fillet (cut into strips)
7-8 native tomatoes (seeded and julienned)
1 cup chicken stock
1 stalk onion leeks (cut the white stalk into thumb sized chunks and the green part for garnish
6 cloves garlic (sliced thinly)
1 bay leaf
Vegetable oil
HG Seaweed salt
Pepper
Procedure:
1/2 cup freshly squeezed orange juice
1 tbsp honey
1/4 cup fresh wansoy (finely chopped)
HG Seaweed salt
Pepper
Procedure:
1. In a nonstick pan, sauté leeks and garlic in vegetable oil until fragrant.
2. Add tuna strips and cook for 2-3 minutes over the same heat
3. Add tomatoes and season with seaweed salt and pepper. Sauté until it slightly wilts
4. Pour in chicken stock. Cover and simmer over low heat for another 10 minutes. Add bay leaf.
5. Transfer in garapon with the green part of leeks served last.