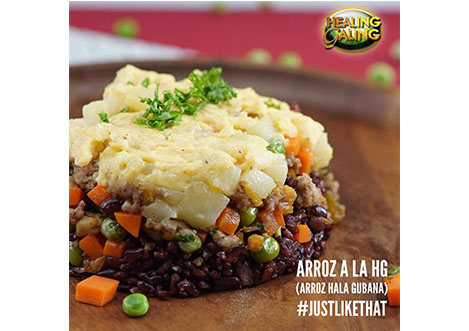 Wellness Recipes: Acute Vestibular Syndrome
Posted November 6, 2017 by admin
WELLNESS RECIPES ni Chef Jeremy
RECIPE: Arroz ala HG (Arroz Hala Gubana)
Ingredients:
1 cup lean ground pork
1/3 cup white onion (minced)
4 cloves garlic (minced)
1 cup native tomatoes (seeded and sliced)
1/3 cup water
1/3 cup green peas (frozen fresh para bright green)
1/3 cup diced carrots
1/4 cup raisins
Seaweed salt
Pepper
1 tsp healing galing honey
Vegetable oil
Sides:
1 cup cooked healing galing black rice (split into two)
1 saging na saba (seeded, boiled until fork tender then diced)
1 egg beaten
Freshly chopped parsley for garnish
Procedure:
In a non-stick pan, sauté onion and garlic in vegetable oil over low-medium heat until translucent and fragrant.
Add tomatoes and cook for another minute over the same heat.
Add lean ground pork. Cook over medium heat until it is opaque and breaks into small bits and pieces. Roughly around 4-5 minutes.
May add some water at this point.
Add the carrots and peas. Season with seaweed salt and pepper. Cook for another minute. Make the eggs in a separate non-stick pan. Cook in a very soft scrambled manner. Set aside.
Turn off the heat and add the raisins and honey. Adjust and season accordingly.
Plating! Using a ring/Square mold, layer and shape the cooked black rice – meat – banana – egg and top with freshly chopped parsley. Serve!