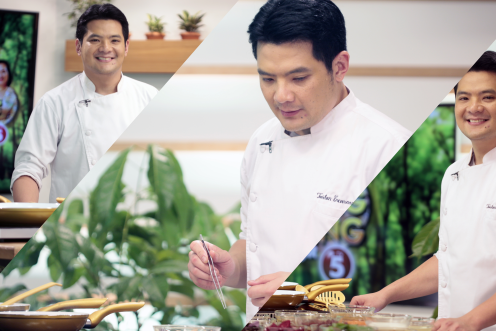 Wellness Recipes: Anemia
Posted January 10, 2016 by admin
WELLNESS RECIPES ni Chef Tristan Encarnacion
Salmon is an excellent source of iron
RECIPE: FRIED SALMON ON BLACK RICE
Ingredients:
1tbsp Cooking oil
2pcs Onions, white
3pcs Garlic, chopped
2tbsps Tuna in oil, canned, drained
2-3pcs Chicken Liver
Chicken broth as needed
¼ cup Heavy cream (cooking cream)
½ tbsp Butter, unsalted
2tbsps Blood cake, diced
2tbsps Vinegar
Salt as needed
Ground black pepper as needed
2cups Brown Sugar
2-3pcs Salmon fillets, (50g-80g per pc)
Heat oil in a pan. Saute onions and garlic. Add chicken liver, blood cake, tuna and season with salt and pepper. Pour vinegar into the pan. Add broth and cream. Season again with salt, pepper and brown sugar. Mash and/or puree meats until melted. Adjust sauce by adding broth or cream.
In a separate pan. Heat oil or butter. Season salmon fillet with salt and pepper. Sear both sides and cooked fish until ready.
PLATING
Ingredients:
2-3 leaves Camote tops, washed
2-3 leaves Alugbati tops, washed
2-3pcs diced Sugar Beets
1cup Cooked Black rice
To assemble dish. Place cooked black rice on the plate, add cooked salmon, sugar beets, leaves and pour sauce over the fish.