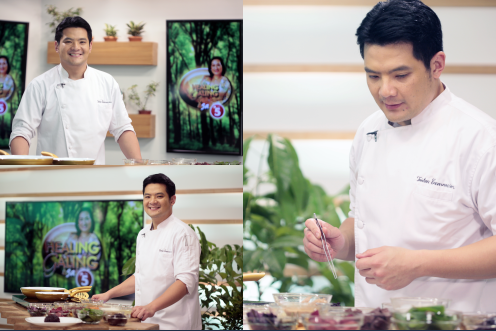 Wellness Recipes: Best of the Best
Posted January 3, 2016 by admin
WELLNESS RECIPES ni Chef Tristan Encarnacion
RECIPE: CARABEEF
Ingredients:
150 g. Carabao meats, boiled and broth reserved
2 tbsps. cooking oil
1 tbsp. onions, chopped
½ tbsp. garlic, chopped
2-3 pcs. of iceberg lettuce and romaine lettuce leaves, washed
¼ cup spinach leaves, washed
3-4 pcs. asparagus, blached/half cooked
1 tbsp. malunggay leaves
1 pc. potatoes, boiled and mashed
1 pc. banana, boiled and mashed
1 pc. egg yolks
1 tbsp. quickmelt, cubed
½ cup heavy cream (cooking cream)
½ cup fresh milk
1 tbsp. butter, unsalted
½ tbsp. white sugar
Salt as needed
Ground black pepper as needed
Sauté onions and garlic in a hot pan with oil. Add carabao meat and season with salt and pepper. Pour broth, cheese and cream, simmer for a few minutes, turn off the heat and add in egg yolks until thick and creamy. Set aside.
For the mashed potato. Heat milk and or cream, add butter and stir in mashed potatoes and mashed bananas. Season with salt and pepper. Add spinach and malunggay. Mix very well. Check seasoning before serving.
To assemble, place mashed potato and banana on the center of the plate. Top it with cooked carabao's meat and garnish with green leafy vegetables.
RECIPE: Avocado, Seaweed and Spinach Salad with Mixed Greens and Spicy Mango Vinaigrette
Ingredients:
½ pc. Avocado, sliced
½ pc. Lime or Calamansi juice as needed
1 cup Spinach leaves (salad), washed
2 tbsps. Walnuts, slightly roasted
¼ cup Seaweed, cleaned and chilled
¼ cup Broccoli, blanched (partially cooked)
1-2 tbsps. Dried Mango, chopped
1-2 cups Mixed greens, washed
1-2 tbsps Canola oil
2-3 tbsps Fish sauce
White sugar as needed
Ground black pepper as needed
1-2 pcs. Siling labuyo, chopped
2 tbsps. Wansoi
1 pc. Manggang Manibala, strips
In a jar, combine canola oil, fish sauce, sugar, pepper, siling labuyo and wansoi. Shake very well.
Pour vinaigrette in a bowl with the rest of the ingredients. Toss very well, transfer and arrange salad on a cold plate. Serve.
RECIPE: Mango, Carrot, Banana, Celery Shake
Ingredients:
½ pc. Ripe Mango, cubed
1 pc. Banana
½ pc. Carrot, cubed
1 stalk Celery (green part), chopped
¼ cup Watermelon, seedless, cubed
¼ cup Papaya, cubed
1cup Crushed Ice
Honey or Simple Syrup as needed
½ tsp. Rock Salt
Fresh Basil to taste
Fresh Mint to taste
Combine everything in a blender. Puree until smooth. Pour water or fruit juice if needed.
Pour in a glass, garnish with fresh herbs and serve with straw.
RECIPE: Nilagang Baka Sa Saba, Mais At Star Anise
Ingredients:
Beef Campto, cubed, boiled until tender, broth saved
1 tbsp. Oil
1 tbsp. Onions, chopped
1 clove Garlic, crushed
¼ head small Cabbage
3-5 pcs. Baguio beans
1 pc. Saging na Saba
½ pc. Corn
Patis as needed (optional)
1 pc. Star Anise
Rock salt as needed
Ground black pepper
Sauté onions and garlic in a pot with oil. Add tender beef and pour in broth. Add star anise, vegetables, saging and corn. Remove star anise add season with salt and pepper. Serve on a bowl with steamed rice.