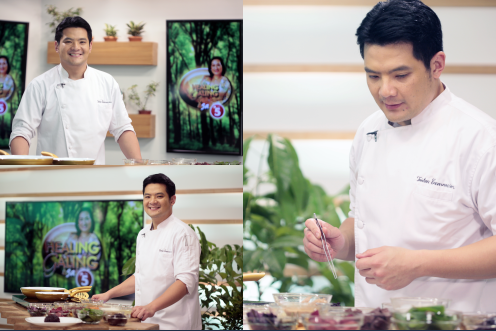 Healing Sangkap: Gabi Balls
Season 3, Chemical Poisoning
Posted January 27, 2016 by admin
Ingredients:
1cup Gabi, boiled and mashed
2tbsps Saluyot leaves, chopped
2tbsps Alugbati leaves, chopped
¼ cup Eden cheese, grated
Oil for frying as needed
¼ cup All-purpose flour
1pc Whole eggs, beaten
½ cup Breadcrumbs
Salt as needed
Pepper as needed
Combine mashed gabi, saluyot and alugbati in a bowl, season with salt, pepper and then mix it very well. Get a spoonful of the mixture, add grated cheese and form into a ball, making sure that the cheese is inside the gabi mixture. Dredge gabi balls into flour, then onto the beaten eggs, then lastly coat gabi balls with breadcrumbs. Cook breaded gabi balls in a pot with heated oil until golden in color. Serve cooked gabi balls with your preferred dressing.
Ingredients:
¼ cup Mayonnaise
½ tbsp. Honey
½ tbsp. Mustard
¼ tbsp. Lemon juice
Salt as needed
Ground black Pepper as needed
Mix everything in a bowl. Store in an airtight container and store inside the chiller.