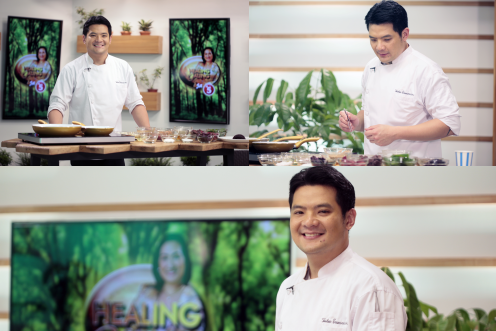 Wellness Recipes: Dual Vision
Posted January 24, 2016 by admin
WELLNESS RECIPES ni Chef Tristan Encarnacion
RECIPE: Sweet Potato and Mushroom Fritters
Ingredients:
1cup Kamoteng Dilaw, grated
¼ cup Button mushroom, chopped
1cup All–purpose flour
1tsp Baking powder
1tsp Salt
1tsp White sugar
1pc Eggs, beaten
½ cup Milk
1tbsp Melted Butter, unsalted
Oil for frying
Powdered sugar as needed
Fresh mint for garnish
Combine everything in a bowl except for the oil, powdered sugar and fresh mint. Drop a spoonful of the mixture into a pan with pre-heated oil and cook until golden. Remove cooked fritters and drain on paper towel to remove excess oil. Dust cooked fritters with powdered sugar and garnish with fresh mint.
RECIPE: Pumpkin, Banana and Papaya Shake
Ingredients:
Kalabasa, boiled and mashed
Banana, ripe
Papaya, ripe
Simple syrup or Honey or Stevia
Crushed ice
Fresh Stevia Leaves for garnish
Place everything in a blender and puree until smooth. Pour into a chilled glass, garnish with fresh stevia and serve right away.