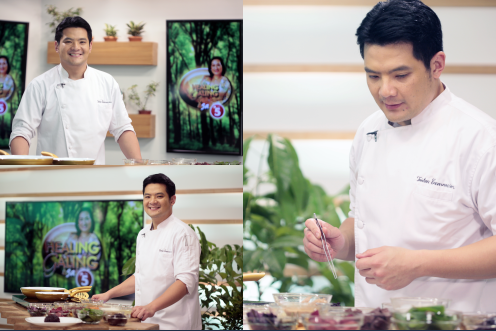 Healing Sangkap: Vegetable Crepe
Season 4, Epilepsy
Posted June 28, 2016 by admin
Ingredients:
1tbsp Butter, unsalted
1cup All purpose flour
1pc Whole Egg
Fresh Milk as needed
Sugar as needed
Salt as needed
Combine sifted flour, egg, butter, sugar and salt in a bowl. Slowly pour milk and mix using a wire whisk. Once mixed well and with the right consistency, let the mixture rest for at least 15 minutes. In a nonstick pan, grease the bottom of the pan with butter. Pour some of the crepe mixture, swirl the pan and remove excess mixture. Once the mixture has set, remove and place crepe on a plate. Repeat process using all the crepe mixture.
For the Filling
Ingredients:
2tbsps Butter
1tbsp Onions, chopped finely
1/2tbsp Garlic, minced
1cup Banana, sliced
1/2cup Kalabasa, small diced, pre cooked
2tbsps Green beans, sliced, cooked
1tbsp Peanuts
1/2tbsp Calamansi juice
Coconut cream as needed
Honey as needed
Seaweed salt to taste
Ground black pepper to taste
Heat butter in a pan, sauté onions and garlic. Add vegetables, banana and nuts. Season with salt and pepper. Pour juice, toss, then add cream and honey. Season again if needed.