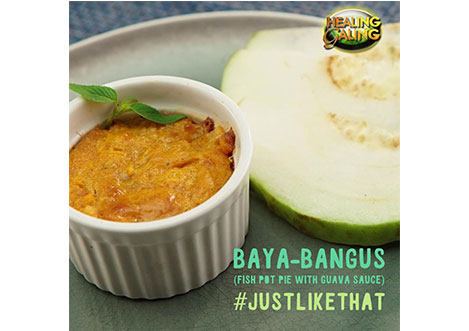 Wellness Recipes: Folliculitis
Posted November 6, 2017 by admin
WELLNESS RECIPES ni Chef Jeremy
RECIPE: BayaBANGUS (Fish Pot Pie with Guava Sauce)
Equipment needed:
Oven toaster
Round ramekin (small)
Silicon brush
Ingredients:
250 g cooked bangus flakes (can be steamed or boiled)
1 cup grated cheese
1 small white onion (minced)
1/2 cup sweet potato (boiled and mashed)
1/4 cup finely diced carrots
1/4 cup finely minced wansoy
2 cloves grated garlic
1 egg (beaten)
Seaweed salt
Pepper
Sauce:
1/3 cup Mashed/pureed fresh guava
1/4 cup fresh guava/ apple juice
Some grated ginger (if allowed)
1 tbsp healing galing honey
Procedure:
In a mixing bowl combine bangus flakes, half cup grated cheese, onion, carrots and wansoy. Season with seaweed salt and pepper.
In another mixing bowl, combine mashed sweet potato, grated garlic and half a cup of grated cheese. Season with a little seaweed salt and pepper.
Transfer first mixture in a ramekin and then top/cover with the second mixture. Brush with some beaten egg before popping in the oven toaster.
Cook until it slightly browns and the cheese melts and combines well with the sweet potato. Around 8-10 minutes.
Make the guava sauce. In a small non-stick pan, combine all ingredients and cook over low heat until syrupy. Strain if you want a finer sauce. 
Serve together.