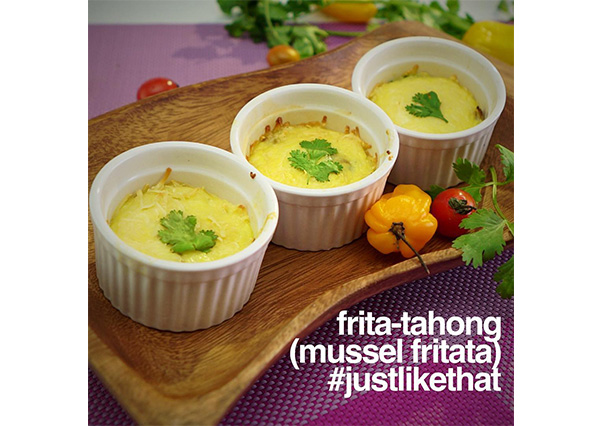 Wellness Recipes: Hyperthyroidism
Posted May 28, 2018 by admin
WELLNESS RECIPES ni Chef Jeremy
RECIPE: "Frita-tahong" (Mussel Fritata)
Equipment needed:
Oven toaster
Ramekin
Non-stick Aluminum foil
Ingredients:
1 cup boiled mussels, minced
2 garlic cloves, minced
1 white onion, minced
1/2 cup wansoy leaves
1 tbsp fresh orange juice
3 eggs, beaten
1/3 cup grated cheddar cheese
Vegetable oil
HG Seaweed Salt
Procedure:
Sautee mussels in garlic and onion. Season with salt and pepper.
Add orange juice and wansoy. Remove from fire.
Place mixtrure in ramekin. Pour over beaten egg and add grated cheese on top. Cover with aluminum foil.
Preheat oven toaster at 250 degrees. Bring it down to 100 degrees and bake mussels for seven minutes.
Remove from oven, take out the foil and bake again for three minutes.
Garnish with wansoy and serve.