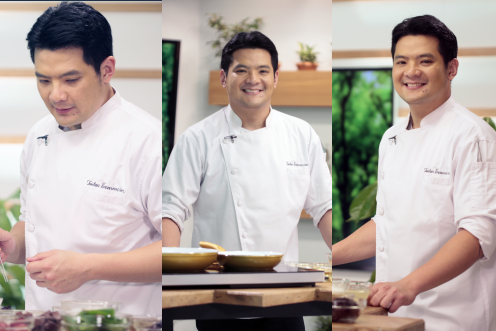 Healing Sangkap: Black Rice Risotto
Season 5, Leukemia
Posted October 12, 2016 by admin
Ingredients:
2tbsps Oil
1tbsp White Onions, grated
½ tbsp. Garlic, minced
1cup Black Rice, soaked in water for at least 3hours
2tbsps Sugar beets, diced or sliced
½ cup Beef Sirloin (Tapa), very thinly sliced, sukiyaki cut
2tbsps Butter, unsalted
Broth or Stock as needed
¼ cup – ½ cup Parmesan cheese
Seaweed salt as needed
Ground black pepper to taste
Asparagus, blanched, for garnish
Cherry tomatoes, for garnish
Edible flowers for garnish
Heat oil in a pan and sauté onions and garlic. Add beef, toss then add black rice, season and mix very well. Pour broth or stock, bring to a boil then simmer. Pour more liquid if needed and stir once in a while. Once the rice is cooked and/or al dente, remove pan from heat, add butter and parmesan while stirring. Check seasoning before serving.
Culinary Terms
Al Dente – "to the bite", cooked but not over-cooked (saggy)