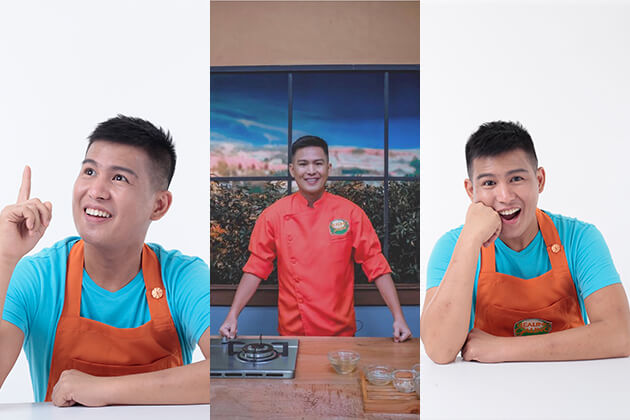 Healing Sangkap: BINA-TU (Steamed Binalot na yellowfin tuna with malunggay pesto and apple relish)
Season 13, Lung Cancer
Posted November 26, 2018 by admin
Equipment needed:
Almires
Aluminum foil
Steamer
Ingredients:
2-3 palm size pieces of tambakol fillet
1-2 cup fish/chicken stock
1/4 cup Julienned carrots
1/4 cup Julienned celery
Malunggay pesto:
5 cloves garlic
1/4 cup fresh basil leaves
1/4 cup fresh parsley
1/3 cup fresh malunggay leaves (par boiled for 1 minute and drained)
1 tbsp parmesan cheese
1 tsp vegetable oil
HG Seaweed Salt
Pepper
Apple relish:
1/2 cup julienned red apple (babad sa tubig na may lemon juice para hindi mangitim)
1/3 cup julienned white onion
1 tbsp honey
HG Seaweed Salt
Pepper
Procedure:
Using mortar and pestle, purée malunggay pesto ingredients. Season with seaweed salt and pepper.
Using the palm of your hand, make a "boat pocket" with the foil and then gently place your fish on top of julienned carrots and celery, then and stock.
Steam for 15-17 minutes.
While waiting to cook make the apple relish. Combine apple relish ingredients in a mixing bowl and season, cover and set aside.
Serve on top of the fish.