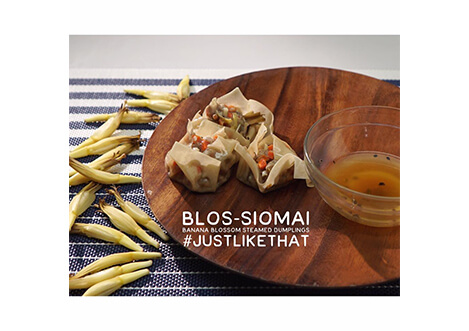 Wellness Recipes: Ovarian Cyst
Posted September 7, 2017 by admin
WELLNESS RECIPES ni Chef Jeremy
RECIPE: BLOSSIOMAI (Banana blossom steamed dumplings)
Equipment needed:
Ingredients:
1/4 kilo fresh banana blossoms (prepared ahead of time: filaments removed)
1/4 cup lean ground pork
1/3 cup carrots (diced)
1/3 cup singkamas (dived)
2 eggs
5 tbsp cornstarch/all-purpose flour
1 medium onion (minced)
3 cloves minced garlic
Healing Galing Seaweed salt
Pepper
Molo/siomai wrapper
Some water
Dipping sauce:
Fresh orange juice + honey + seaweed salt
Procedure:
Sauté banana blossoms in onion and garlic. Season with seaweed salt and pepper.
Add some water and simmer until it softens a bit.
Turn of the heat and add carrots and singkamas. Let it cool.
In a mixing bowl combine with the rest of the ingredients: flour and egg.
Wrap in molo wrapper and steam for 30 mins. Serve with your dipping sauce.