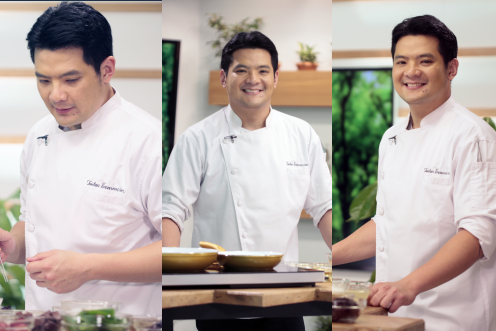 Wellness Recipes: Pigsa
Posted May 10, 2016 by admin
WELLNESS RECIPES ni Chef Tristan Encarnacion
Leafy green vegetables are some of the healthiest vegetables you can eat for summer – great sources of Vitamin A and C.
RECIPE: Lumpiang Sariwa
Ingredients:
1cup labanos, thinly sliced
1cup singkamas, matchsticks size cut
1cup carrots, matchsticks size cut
1cup ripe mango, matchsticks size
Mixed lettuce, as needed
Cane vinegar as needed
Sugar or honey as needed
1/4 cup Oil
2tbsps Fish sauce
1tbsp wansoi, chopped
1/2tbsp garlic, chopped
Salt to taste
Black pepper to taste
To make the dressing, combine fish sauce, oil, sugar, garlic, wansoi, black pepper. Mix very well, set aside. In a bowl, add remaining ingredients, pour dressing, toss very well and serve cold.
RECIPE: Cucumber Mint Cooler
Ingredients:
1pc cucumber, thinly sliced
A handful of fresh mint
White sugar as needed
1/2cup Lime or calamansi juice
1/2cup water or sparkling soda or sprite
Crushed ice as needed
In a glass combine half of the sliced cucumber, mint and sugar. Pound or press downwards using a pestle or spoon until flavors excrete while slowly pouring the juice of lime. Pour in water or soda, stir and taste. Strain over a glass with crushed ice.