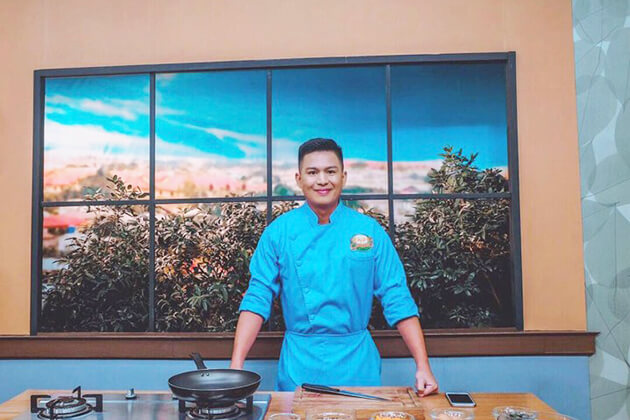 Healing Sangkap: SABAW NA KI-PINO (Kintsay + Pipino Soup)
Season 9, Psoriasis
Posted November 6, 2017 by admin
Equipment needed:
Ingredients:
1/4 protion of sweet potato (peeled and chopped)
1 cup grated cucumber
3 large celery stalks (washed, trimmed and chopped)
1 small white onion (minced)
2 cloves grated garlic 
1 bay leaf
Pinch of dried thyme
Seaweed salt
Pepper
Celery leaves for garnish
Vegetable oil 
2-3 cups water
Procedure:
In a stock pot, heat some vegetable oil over low-medium heat.
Add white onion and sauté until translucent.
Add garlic and sauté until fragrant.
Drop in one bay leaf and stir for another minute.
Add celery stalks and cook for another 2 minutes over low heat.
Add sweet potatoes, toss and make sure every piece is coated well with the other ingredients on the casserole.
Add water and simmer until ingredients are fork tender.
Once fork tender, transfer in a blender and puree until smooth.
Bring it back in the casserole and season accordingly with seaweed salt and pepper.
Plate in a nice bowl with some kintsay/celery leaves.