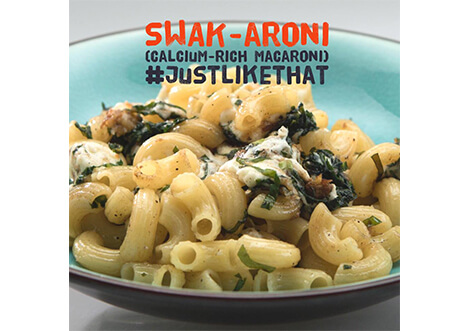 Wellness Recipes: Slip Disc
Posted September 7, 2017 by admin
WELLNESS RECIPES ni Chef Jeremy
RECIPE: SWAKaroni
S – spinach
W – white cheese (kesong puti)
A – alugbati
K – kangkong
Equipment needed:
Ingredients:
1 cup macaroni pasta
1/2 cup spinach leaves
1/4 cup white cheese (kesong puti)
1/2 cup alugbati leaves
1/2 cup kangkong leaves
5 cloves grated garlic
Healing Galing Seaweed salt
Pepper
Olive oil
Procedure:
Boil macaroni pasta in water with a little seaweed salt until al dente. Strain and set aside.
Blanch (ilublob sa mainit na tubig) greens for less than a minute. Shock in cold water afterwards.
Blend greens with garlic and olive oil then season with seaweed salt and pepper.
Transfer in a non stick pan and toss with your macaroni.
Add kesong puti and serve.