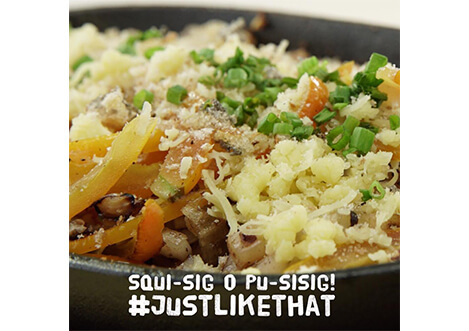 Wellness Recipes: Stroke
Posted May 18, 2017 by admin
WELLNESS RECIPES ni Chef Jeremy
RECIPE: SQUI-SIG (squid sisig)
Equipment needed: sizzling plate
Ingredients:
2 large squids (wash and trim ink sacks)
1 large white onion (diced)
3 large tomatoes (quartered, julienned and seeded, of course)
1 laurel leaf
1 lemongrass stalk
5 cloves garlic (minced)
1/3 cup grated cheese
1 siling haba
2 tbsp vegetable oil
Seaweed salt
Pepper
1/3 cup water
Spring onion for garnish
Fish skin chicharon (optional as topping)
1 pc toasted wheat bread
Procedure:
Rub some seaweed salt on the squid and let it stand for 3-4 minutes. Grill squid 3-4 minutes per side then allow it to cool
Chop the squid into small cubes (same size as the meat sa normal na sisig)
In a non stick pan, heat vegetable oil over medium heat.
Sauté onion until translucent and garlic until fragrant.
Add bay leaf and lemongrass. Stir for another minute.
Half the aromatic mixture and add the chopped squid. Cook for another minute.
Remove from the pan and bring back half the aromatic mixture.
Add tomatoes and cook until it slightly wilts.
Pour water and simmer for another minutes.
Assembly! Transfer in the sizzling plate, and top with the rest of the ingredients.