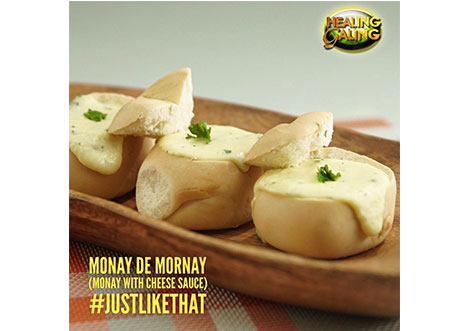 Wellness Recipes: Trigger Finger
Posted November 6, 2017 by admin
WELLNESS RECIPES ni Chef Jeremy
RECIPE: MONAY DE MORNAY (Monay with Cheese Sauce)
Equipment needed:
Non-stick pan
Oven toaster (optional)
Ingredients:
6 pcs. Monay bread
2 tbsp Margarine
1 tsp flour
1 cup fresh milk/ evap
1/2 cup grated cheddar cheese 
Seaweed salt
Pepper
Fresh parsley as topping or fried malunggay leaves as garnish
Procedure:
In a non-stick pan, melt butter/margarine. Add flour. This will serve as your thickener (roux)
Add milk and keep stirring over low heat. Use a silicon spatula so that it doesn't damage or scrape non-stick coating on your pan.
Add cheese and cook until it melts over very low heat. Season with seaweed salt and pepper. Set aside.
Make a bowl or small cups with your monay bread. 
Pour cheese mixture over bread cups. 
Option: if popping on an oven toaster, brush the bread with some milk on the side so it doesn't dry up.
Top with fresh parsley or fried malunggay leaves as garnish.