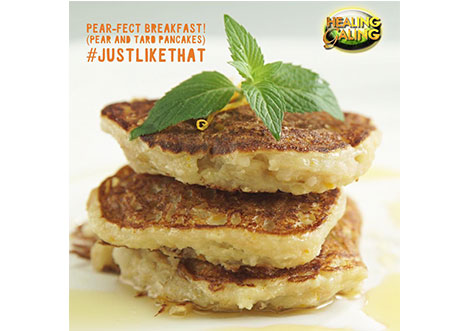 Wellness Recipes: Ulcer
Posted November 6, 2017 by admin
WELLNESS RECIPES ni Chef Jeremy
RECIPE: PEAR-FECT BREAKFAST (Pear and Taro Pancakes)
Equipment needed:
Mixing bowl
Wire whisk
Soup ladle / ice cream scoop 
Non-stick pan
Ingredients:
1 cup grated pear
1/2 cup old grated taro
1/4 cup fresh milk/ evap (may add as needed)
1 egg
1/2 tsp baking powder
1 tbsp honey 
Vegetable oil to brush the pan
Stevia leaves for garnish
Healing galing honey to serve (as pancake syrup)
Some finely grated orange rind
Procedure:
Combine all ingredients in a mixing bowl.
Spoon a serving on a non-stick pan brushed with some veg.oil. 
Cook for 2-3 minutes per side until it slightly browns.
Serve with pear slices, stevia leaves and healing galing honey as syrup.