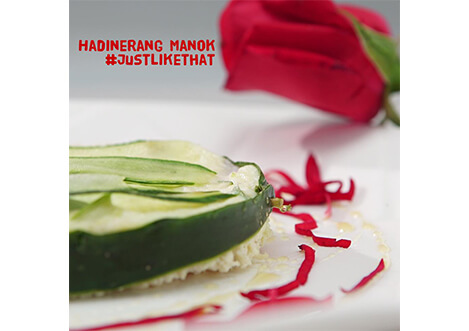 Wellness Recipes: Warts
Posted September 7, 2017 by admin
WELLNESS RECIPES ni Chef Jeremy
RECIPE: HARDINERANG MANOK
Equipment needed:
Llanera
Steamer
Peeler
Aluminum foil
Ingredients:
2-3 eggs (beaten)
1/4 cup chopped boiled chicken breast
2 cloves grated garlic
1 native tomato (seeded and julienned)
1/4 cup diced cucumber
1/4 cup pickle relish
Cucumber peeling for garnish
Edible flowers (optional)
Healing Galing Seaweed salt
Pepper
Procedure:
In a mixing bowl combine all ingredients.
Transfer in a llanera and cover with aluminum foil. You may line the llanera with slices of cucumber and tomatoes.
Steam for 10-15 minutes in a steamer.
Transfer in a white plate and serve.