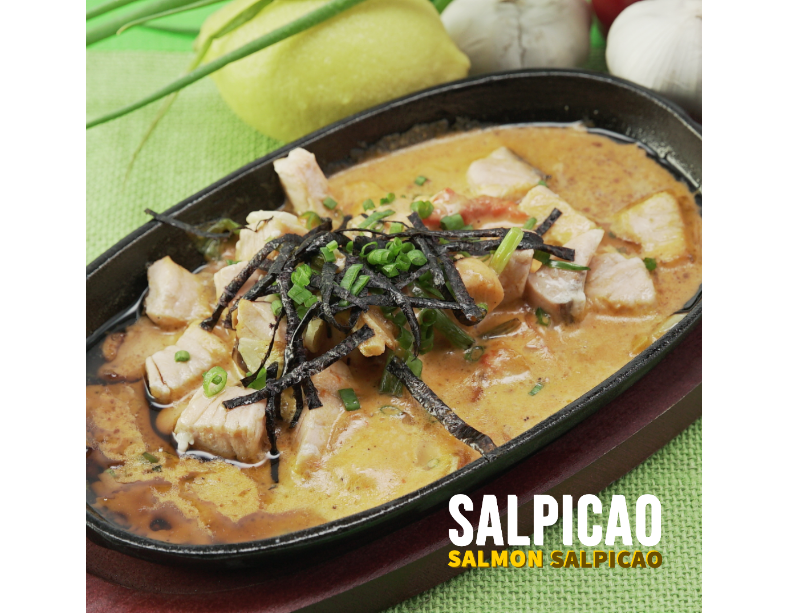 Healing Sangkap: Salmon Salpicao
Season 17, MEMORY LOSS
Posted January 23, 2020 by admin
Equipment needed:
Ingredients:
7 cloves garlic (sliced thinly parang garlic chips)
1/3 kilo salmon fillet (belly if ever, cut into bite sized pieces)
HG Seaweed salt
Pepper
1/2 lemon
Some crispy seaweed as topping
Fresh spring onion as topping
Some vegetable oil
Smoked pepper cheese sauce:
1 red bell pepper (sinunog ang balat then scrape the burnt parts off)
4 tbsp butter
1/2 lemon
1 tbsp flour
1 cup fresh milk
1 cup grated cheddar cheese
HG Seaweed salt
Pepper
Procedure:
1. Make the cheese sauce: in a non stick pan, melt some butter and then add flour. Add milk then purée in the blender with some roasted bell pepper.
2. Bring the sauce back in the pan and then melt the cheese with it. Set aside.
3. In another pan, sauté garlic in vegetable oil over low-medium heat.
4. Add salmon and pan sear until opaque. Season.
5. Add a squeeze of lemon on both the salmon and the sauce.
6. Serve together in a sizzling plate. Garnish with fresh spring onions and julienned crispy nori.